Our stay in Nantes was very busy. We had so much to do, time flew … between discovering the Machines de l'île, the escape games and the many restaurants that we wanted to test. And of course, once there, we discovered everything, from the incredible elephant to the magnificent Carrousel des Mondes marins filled with extraordinary animals: a highly exciting experience that we will not fail to repeat newt time we are in Nantes.
The Carrousel des Mondes marins is located opposite the Jules Verne museum, a little away from the Machines de l'île. It is open to the whole family, who also benefit from a guided tour of this kind of "mechanical aquarium". Designed on several floors, we discover three different rides, literally stacked on top of each other.
You start with the seabed, then go to level 2, the abyss and its 6 elements suspended 5 meters above the seabed. Finally, you reach the surface of the sea, and it is there that you will be able to take a real carousel ride on the machine that you have chosen.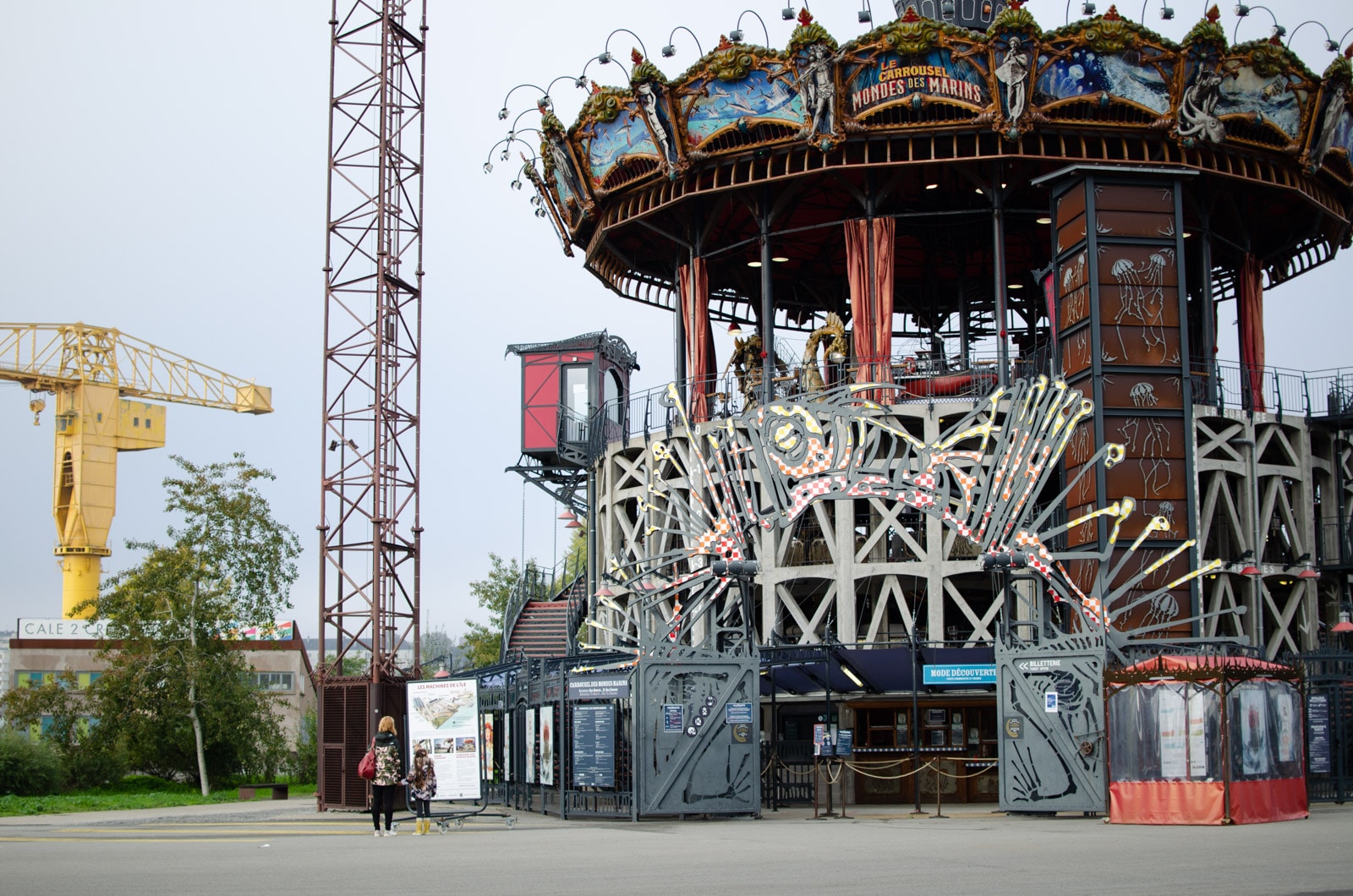 The visit is absolutely fascinating, because at each level you will be able to test some of the machines, but also learn more about the overall project, the way the merry-go-round works and its history. We all adored this moment, with inevitably, the great ride at the end which makes the children (and their parents) smile. But for us, the real plus lies in the very thorough visit.
Good to know
A must do
Make sure you arrive on time so as not to miss any explanations. Do not be shy and test as many machines as possible, it's just pure fun!
The princess loved
We chose a shell pulled by flying fishes and it was Daddy Puffin who pulled our shell, it was just awesome!
The ups for kids
Your kids are over 8 years old
They are going to love the guided tour, but above all, having the opportunity to test some of the machines of the Carrousel des Mondes marins on their own.
Your kids are less than 8 years old
They can come with you in lots of machines, apart from those in the abyss area where you have to be over 1m35.
Information
Rates
We highly recommend the Carousel Fairground Mode. It is possible on Wednesday afternoons from 2 p.m., on weekends and during school holidays. It includes access to the gangways, a ride and boarding on one of the elements on one of the three levels.
Full price: 8.50 euros, reduced price for children from 4 to 17 years old: 6.90 euros, only 3 euros for children from 1 to 3 years old.
The additional tour costs 3 euros.
Details
Carrousel des Mondes marins
Les Machines de l'île
Parc des Chantiers
Bd Léon Bureau
44200 Nantes